Baltimore's Top Demolition Company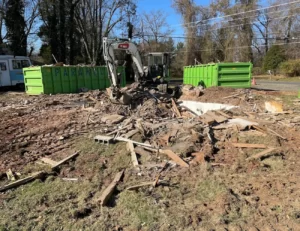 Nestled in Baltimore's heart, Next Day Demolition Company excels in delivering top-notch demolition services. Our expert team meticulously handles diverse projects, ranging from precise garage deconstruction to strategic mobile home relocation, and comprehensive environmental solutions.
Recognized for stringent excavation standards, especially in specialized pool projects, we also excel in dismantling historical structures. Every project, big or small, receives our unwavering dedication, ensuring exceptional results.
Our foundation rests on strong ethics, relentless drive, adaptability, and a commitment to shared success, securing our industry prominence.
We enhance these values by promising immediate, clear project estimates, reinforcing client trust, and affirming our respected role in the demolition sector. Experience excellence and precision with Baltimore's finest demolition services at Next Day Demolition.