Unveil Unmatched Industrial Mastery with Next Day Demolition
Forefront of
Industrial Demolition

Services.
Electing Next Day Demolition for your industrial demolition endeavors represents a commitment to exceptional prowess and sheer professionalism. Our cadre of experienced experts employs a blend of long-standing experience and the latest machinery to ensure unparalleled accuracy and efficiency for expansive industrial undertakings. 
Our steadfastness to eco-friendly methodologies, coupled with a pledge to community safety, enshrines our status as the premier choice for industry magnates. Navigate the paradigm of flawless demolition execution with Next Day Demolition at the helm.
By choosing the specialized team at Next Day Demolition, you benefit from:
Z

Fully licensed professionals

Z

Limited Class B Asbestos Removal Accreditation

Z

Dual Asbestos Supervisory Expertise

Z

Certifications to manage and transport demolition and asbestos waste

Z

Public Liability Insurance
Z

Product Liability Insurance

Z

Asbestos Liability Insurance

Z

Comprehensive Demolition Insurance

Z

On-call Traffic Control Officers when required

Z

Seasoned truck drivers and excavator specialists
Demolition Experts
Choose Next Day Demolition for your next project!
Call Now
(888) 793-2693
Best Industrial Demolition Services
The Distinctive Advantage of Partnering with
for your
Next Day Demolition
Selecting Next Day Demolition signifies more than a mere engagement—it embodies a commitment to the zenith of demolition expertise. Our distinguished professionals merge profound industry acumen with avant-garde equipment, guaranteeing unparalleled accuracy and streamlined execution in all endeavors. Beyond that, our unwavering dedication to ecological sustainability and the well-being of our community establishes us as the prime selection for discerning homeowners and businesses. Venture into a realm of seamless demolition solutions with us as your esteemed collaborator.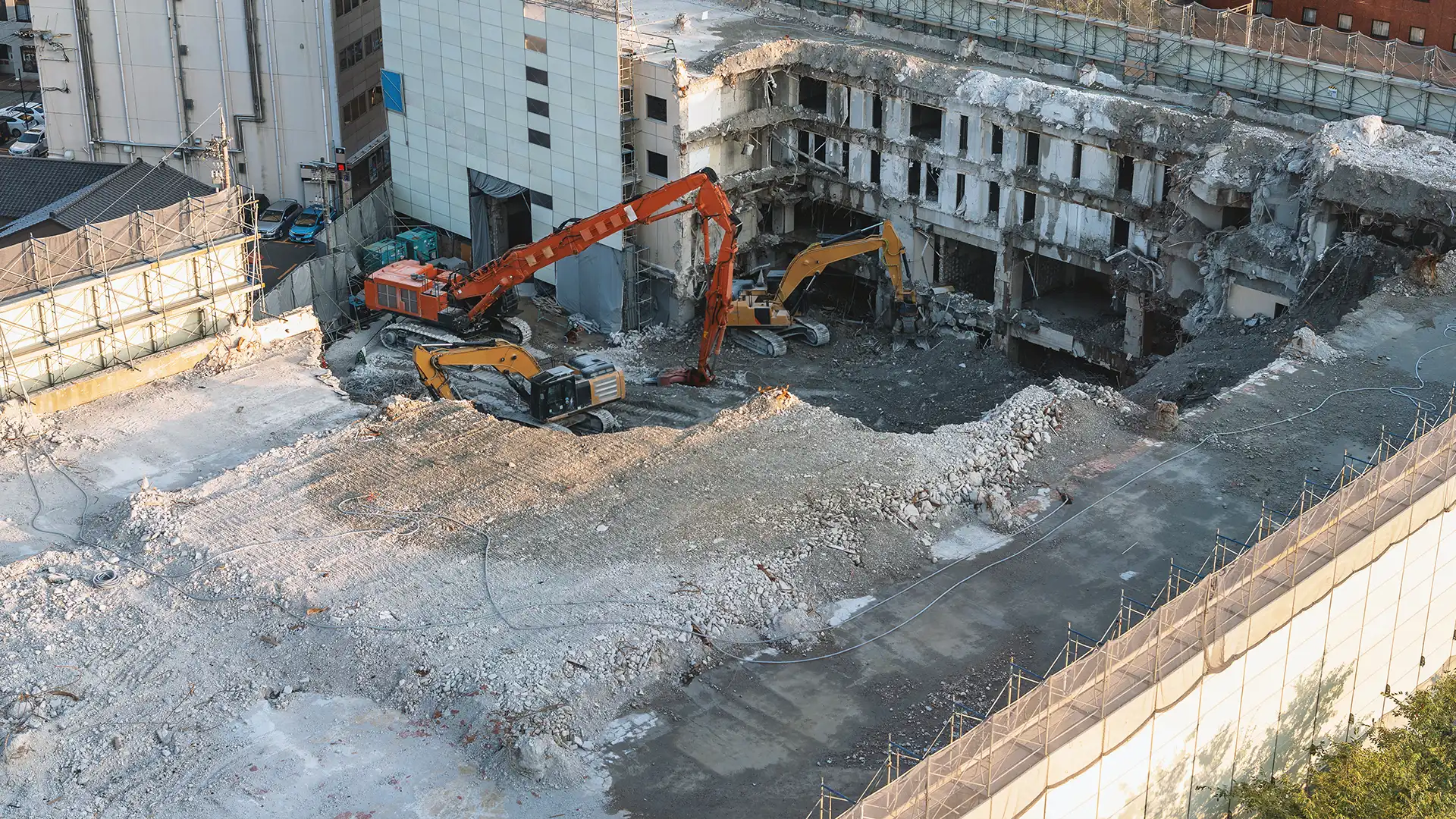 Practice
is what got us where we are today with many years of demo jobs under our belts.
Planning
is what allows us to work efficiently and safely. We make schemes for all kinds of circumstance because we've seen just about everything by now and you never know what you'll uncover in a demolition job.
Preparation
is what ensures that each job happens next-day, or as soon as possible. We gather the right equipment to get the job done in one fell swoop, no downtime or follow-up visits necessary.
We cover all
areas across the
EAST COAST.
At Next Day Demolition, our reach extends throughout the vast expanse of the East Coast. From bustling urban centers to tranquil coastal towns, our expertise and services are accessible to all. Whether you're in the northernmost tip or the southern shores, our commitment to prompt, professional, and efficient demolition solutions remains unwavering. Trust in us to serve your needs, no matter where you're located on the East Coast.